School of Creative
Industries
MA Arts Pedagogy and Practice
Tzang is a scriptwriter, educator and independent filmmaker based in Singapore. His films have been screened in Rotterdam, Berlin, Montreal, Lund, Los Angeles and Tel Aviv, and won awards and international acclaim. Tzang is a former journalist/film critic for FiRST in SPH Magazines. He has also worked as a copywriter in advertising agencies.

An alumnus of Berlinale Talent Campus, Tzang has taught in various educational institutions, namely Institute of Technical Education, Nanyang Technological University and Ngee Ann Polytechnic, and has guest-lectured at Yale-NUS. He is currently a lecturer at Republic Polytechnic teaching visual storytelling and film appreciation.
Work
Teaching philosophy and research interests
In my teaching philosophy, I believe in creating safe spaces for learners to find themselves, and from there, realise their purpose and place in the world. My research interests include transdisciplinary learning, the incorporation of eastern philosophy such as Zen and Tao into pedagogy, courage in filmmaking, and storytelling as an art-making and meaning-making tool.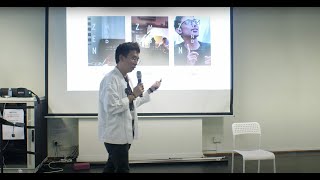 Thesis abstract
Zen-mind filmmaking: A practice research experiment using parameters of minimalism, non-attachment and being in the here-and-now to change filmmaking

As an art form, filmmaking involves the interplay of many other artistic disciplines to create a final finished product. Being highly conditional and dependent on resources such as funding, equipment, crew and cast, filmmakers often get caught up with these entanglements, leading to fatigue and exhaustion. While passion and sacrifice are often quoted as what is needed to make a film (Tarkovsky, 1986, Nieves, 2016), they cannot and should not be the only way to make films.

In trying to reduce fatigue and free the filmmaker from entanglements of being so dependent on conditional elements, a practice research experiment was conducted to see if the filmmaking practice can be improved using the parameters inspired by Zen Buddhist philosophy. This experiment worked with three filmmakers to make films, using three key Zen concepts, namely minimalism, non-attachment and being in the here and now, to reduce filmmaking's dependence on funding and equipment, and adopt a minimalist, less-is-more approach to storytelling with the moving image.

By limiting shoot and edit time to four hours each, filmmakers practice non-attachment to fixated ideas and learn to use the 'thus-ness' and 'such-ness' of their conditions in the here and now, opening themselves to modes of serendipity and sometimes co-creating with their conditions, however unfavourable, to tell stories. The experiment also revealed that films made under these parameters focused less on image-building and more on the image's relations to rhythm, pacing, space and duration.

Despite imposed parameters, Zen-mind filmmaking is found to be liberating rather than limiting, because when the filmmaker is less entangled, he is able to realise his agency and freedom to be himself, and can even use his practice as a means for actualisation. Just as how Zen practice brings a practitioner back to his center, this methodology can be introduced to film education to help bring the practice of filmmaking back to its center – as storytelling with the moving image – without its excesses.
Work experience
2013 – present
School of Technology for the Arts, Republic Polytechnic
Lecturer
1999 – present
INRI studio
Filmmaker/founder
2011 – 2013
Nanyang Technological University
Adjunct lecturer